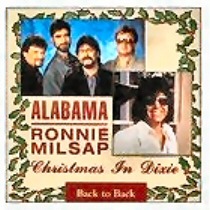 Got one of those "not-really-an-actual-album" compilation things going for tonight's Unwind…a thrown-together selection of Christmas music by Alabama and Ronnie Milsap. Pretty good country Christmas stuff…especially Ronnie Milsap's spectacular rendition of O Holy Night. And of course, there's Joseph and Mary's Boy, Santa Claus, I Still Believe in You, and the great classic (at least in my family!) Christmas in Dixie!
Some other thoughts that dropped out tonight…
I pretty much stunk up the place with my message today. Just never seemed to click. I guess that's what being tired will do for you!
But then again, any Christmas message that includes references to J.I. Packer, T.S. Geisel, and M.H.Tormé can't be all that bad, I suppose.
"The Boy" (recently dubbed "Whiney Boy" by "Mr. Know-It-All") is finally getting a little relief after his recent surgery. He had a pretty graphic description on the phone today, but let's just say there's tremendous power in poop and leave it at that!
Cafetière à piston. Rôti français. Ooh la la, and pas mal, mon ami!
The things one can't help but notice when helping people get set up on weight machines at the YMCA…
Hey, how 'bout that Tebow kid for Heisman! I'm still a large Gator-hater and always will be, but it's pretty cool to know that an historic Heisman Trophy winner is the brother of one of my best ministry friend's daughter-in-law! (Yeah, yeah…six degrees and all that jazz!)
Did I mention I stunk up the joint this morning?
Did I mention our folks were gracious and forgiving?
I love type! I'm not a great – or even good! – designer, but playing with fonts floats my boat!
One of my strengths, according to the StrengthsFinder assessment is Input, meaning I collect things that may have real value in the future. I've come to the conclusion that the collecting is not nearly as big a deal as the retrieval. And I need to work on that. A lot!
John Maxwell still pulls my chain after all these years!
The fact of the Incarnation is staggering!